Hey guys! I know that my blogs are mainly about interior design and home decor.. but, I tend to trail off sometimes onto different subjects!
So, today I officially signed up to be a L'BRI consultant today! WHOOP WHOOP! But wait…what's L'BRI? L'BRI is taking the world by storm as one of the effective skin care products out there! Even been proven to be healthier than Proactive! Don't believe me? Look at Proactive's ingredients and chemicals… not good! L'BRI is all natural products including the main ingredient.. ALOE!! Yes the secret ingredient is aloe and it has saved my skin in so many ways!
L'BRI isn't all just skin care either! They have a wonder line of cosmetics as well as health and wellness! Let me share with you what I personally use to make my skin just beautiful in so many ways!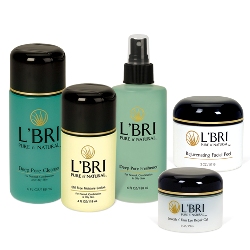 This set is the Deep Pore Set #2. This set has the Deep Pore Cleanser, Freshener, and Moisturizer. Also includes my personal favorite, the Rejuvenating Facial Peel, and Smooth N' Firm eye repair gel! This stuff works wonders! My face keeps getting smoother and smoother every time I use it!
If anyone would like to order something or order free samples, PLEASE visit my website and I will get you started on a beautiful journey!
https://abigailschoenike.lbri.com/
As always.. Follow me on Twitter and Pinterest!
https://www.pinterest.com/schoeabi/